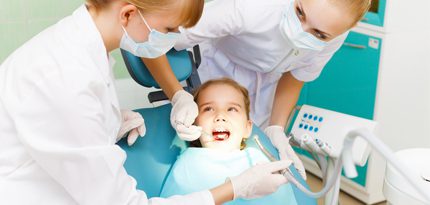 According to the provisions of the CBDS (Child Dental Benefits Schedule), the Australian Government has took an initiative to provide $1000 worth free dental benefits to children aged between 2 and 17 years, along with some other criteria for eligibility.
The CBDS free dental care for kids in Sydney is valid subject to other government payments including family taxes benefits.
To check the eligibility of your child for CBDS benefits, you can contact Medicare or your friendly No Gap Dentists. If your child meets the criteria, we at No Gap Dentists would be happy to take responsibility of your kid's oral health and ensure a healthy smile.
According to Australian Department of Health, tooth decay is the most common chronic childhood condition — five times more probable than asthma, four times more prevalent than early childhood obesity, and 20 times more frequent than diabetes. Dental care for kids in Sydney should start early. Awareness about the importance of proper oral hygiene must be introduced to your children at a young age. Kids love chocolates and sweets which make them susceptible to oral health problems.
It's essential that children are accustomed to having their teeth checked by our dentist regularly, to avoid severe effects like losing teeth due to poor oral health. As a competent pediatric dentist, we are here to offer exclusive dental care for kids in Sydney. We have considerable experience with children's oral health problems – plaque, tartar, and cavity as well as correcting deficiencies through using toothpaste with adequate fluoride, temporary or permanent tooth filling. Our trusted dentist can help your kid achieve healthy teeth and a happy smile with free dental care for kids.
Preparing Your Kid
For children who have never been to a pediatric dentist before, making their first dentist visit could be stressful and traumatic. New faces, odd-looking instruments, X-rays, and bright lights can make them feel quite uncomfortable and anxious. But with careful preparation, you can make your kids dental care in Sydney fun and stress-free.
Practice at Home
You can start making your toddler aware of what could happen in the first dentist visit by practising at home. You can make it look like a game for them, so they don't find it strange and shocking. Using a simple penlight and a mirror, you can show them how fluoride-rich toothpaste makes teeth healthy and strong. Getting used to someone peeking inside their mouth can significantly reduce their jitters during the actual visit.
Kids could get rough when things go beyond their way. It's important to take note of the following tips to avoid embarrassment and stress during your kid's first dental appointment with us:
Get Earlier than the Appointment
The last thing you want to do is to surprise your child with new faces and environment. It pays to come early to give them some time to adjust to a new place. Our dental clinic has attractive decors that can help them feel comfortable.
Bring Along His Pal
Our dentists would advise parents to bring their child's favourite toy to the clinic. It will divert his/her attention from the procedure. Our experienced dentists also use these toys as props to earn the trust of your child to cooperate.
Have Patience During Dental Care for Kids in Sydney
Your kid could go haywire the moment he feels pain. Lots of patience will help keep your child relaxed and well behaved for the entire duration of the procedure.